As If Productions is currently seeking short story writers for a science-fiction/near-future anthology: the second book in the UbiquiCity series. All stories take place within a "Smart City" of the first world 100 years in the future, where ubiquitous computing and augmented reality have become commonplace.
Details:
This is a guided collaborative project. Authors will be working in a curated setting, using characters and plots of their own devising. Guided by reference materials and the project curator (Tod Foley), authors will intertwine their contributions in interesting and logical ways.
Authors are encouraged to make use of crossovers, both in terms of locations and characters, with each other and with previously-existing material.
There will be a private email list dedicated to the project.  There may be some online meetings held via Google Hangouts or etc.  Notes will be made available for anyone missing a meeting, and any related questions, details or plot points may be discussed via the email list.
Deadline for first drafts will be May 30th.
I'll be looking for stories of around 5,000 words (soft limit), with iconic characters and storylines to inspire gameplay in the setting.
Terms: Seeking first world rights in English and exclusive right to publish in print and electronic format for six months after publication date, after which I retain nonexclusive right to continue to publish for the life of the anthology. In addition, your characters will be statted for the GameMaster's Sourcebook, which is a derivative work.
Compensation: A perpetual share of revenue (based on price received) pro-rated by pagecount.
Interested authors should send a query and backgrounder to tod@asifproductions.com; use "UbiquiCity" in the subject line. If you have a story idea, feel free to pitch it. Writing samples may be linked or attached; science fiction preferred.
Queries are accepted via tod@asifproductions.com or using the contact form on this website.
Looking forward to reading your work!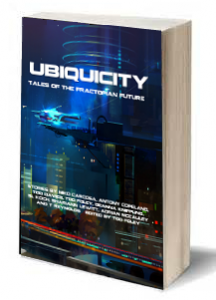 Book 1, UbiquiCity: Tales of the Fractopian Future is now available at Amazon, Smashwords, and DrivethruFiction.